Short talk:
Did you notice the header image of my blog. It is actually a panaroma picture of the grand canyon(30% of it because I had to compress the picture to fit the blog). It was taken in early April of 2005 when I visited the states.
I am quite a lazy traveler in the sense that I hardly take any pictures when I travel. Maybe it's because I'm traveling with family members and they tend to be on a rush. Hence, I have got to pick up the pace and can't stop for any picture snapping.
Hong Kong is densely populated with its every growing chinese community. Not to forget foreign expatriates. Besides, Hong Kong is also one of the largest finance district in Asia. Hence, it wouldn't be a surprise seeing foreigners walking on the streets.
Secondly, Hong Kong is also termed as the food haven of Asia at least for me. Along the streets, you could see many shops selling food, snacks, delicacies and many more.
Chinese Dumplings


When the night hits Hong Kong, my family and I took the MRT (Mine Rail Transit) to Kowloon Harbor to watch the musical city lights.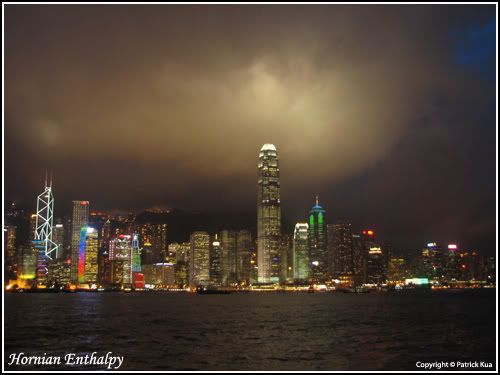 7.45 pm
At 8pm every night, the city will start its musical lights premiere where buildings in the Hong Kong city will emit a wide range of colour beams into the skies as well as laser beams accompanied by the background music played from the speakers on the street.


I reckon that the Hong Kong tourism board deserves a round of applause for coming up with this idea. The musical light show was awesome that I was fascinated in awe when I saw it.