Short Talk
: In less than a week, I will embark on a journey to a distant land to find new hope. Wtf?
Few nights ago, I was invited to a farewell dinner for the departure of Patrick(me) because he's going to Singapore soon. To my realisation, Emile will be going to Singapore to study business in SMU.
At first, the organizer(
Rosanne
) decided to have the dinner at Seoul Garden. The price was exorbitant and we decided to go for something economical.
After being jerks for about 5 minutes in TGI Fridays *we actually sat there with the menu*, I suggested that Chili's would be a better place compared to Friday's.
In the end, we happily dined in Chili's. Not for Jia Yi and Ziyan. Details to follow.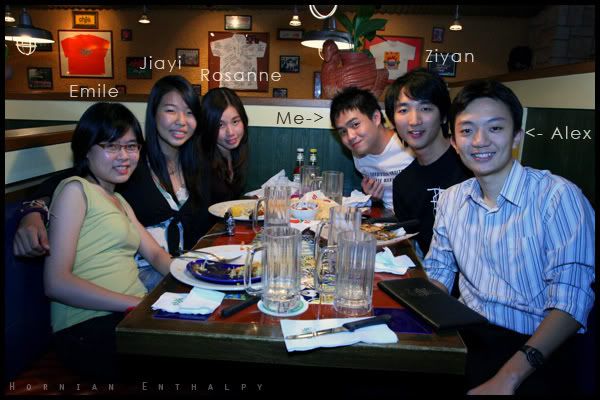 First off, we had Bottomless Tostada Chips.
This is a customary snack plate where one should never forget to order. Priced at RM9.95, how could one resist free flow of corn chips?
Next off would be my dinner plate, Monterey Chicken.
Priced at RM24.95, delicious and enough said.
Rosanne had Lamb Shoulder instead because she loves sheep. WTF.
I was quite hesitant to snap Jiayi's Mushroom Swiss burger. But, she started throwing tantrums and being emo. I couldn't help it but to "layan" her.
The reason I mentioned that Ziyan and Jiayi didn't quite enjoy their food because their meals were too salty. I bet the chef was happily shaking the salt bottle.
Stay tuned for more!