Short Talk:

Kar Fai will embark on a journey to further his studies in Sabah.
Zhang
will be heading to Skudai, Johor at 10am later. Sigh, why are my friends leaving me before I could have a farewell party of my own. =(
Anyways, two days ago, I took up
True Fitness'
5 KM Challenge!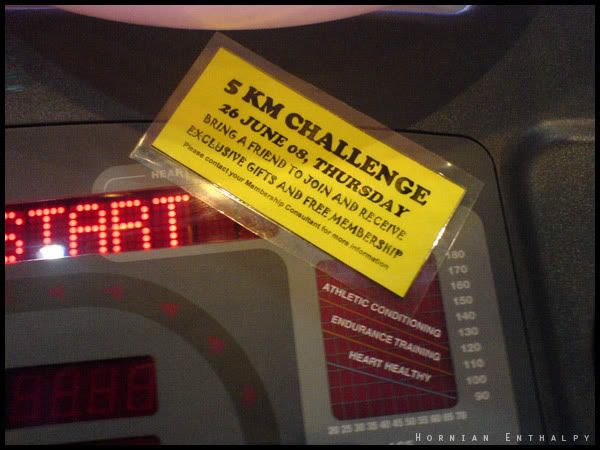 Basically, all you have to do is to find a partner to run with you. You can share the 5km with your partner. This means that should you run 2km, your partner have to run the other 3km. And the total distance covered by the both of you must be 5km. Either you or your partner must be the member of the gym and the other as guest.
The team that manage to complete the challenge the fastest wins.
And jeng jeng jeng.....
I WON!!! I mean my team won!! Being a guest, I won 3 months membership free courtesy of True Fitness. On top of that, I received a goodie bag that includes a Nike water bottle, a gym bag and a shoe bag. Not bad for a guy who just picked up jogging like 4 days ago. :P
*P/s: I know some of you want to know my time. If not mistaken, I ran 1.5km in less than 7 minutes. Besides that, I covered 2.70+ KM while my partner only managed to run 2.20+KM.