*Edited. I have added a picture of Ming Kuan. xD*
It has been almost a month after I left my teaching career. Everything is fine now; I have my daily job as a data entry clerk working from 8am to 5pm literally. Sometimes, I even have the time go for an evening job since I'll be home before six.
Unlike my previous job, work started at 1pm to 7pm in which when I reached home, it would be 7.30pm. Nevertheless, I had fun after a day of teaching in school. =)
I could still remember the first day I entered my classes; one of them was 2 Batai. I used to be this shy guy who couldn't actually speak in front of a big crowd. I had to crack my head to think of what to speak all the time.
Eventually, I got used to it and improved myself along the way. This is one of my greatest lesson in life that I learnt from my students. You guys are the greatest mentors.
A teacher once told me that teaching is the new entertainment industry where the audience comprises students and only students. Being the actor, you have to come out with ingenious ideas to make a lesson interesting. Or else, they will just fall asleep or maybe doing something nasty in class.
Cut the long story short now....
I could still remember the first day that we temporary teachers received our pay.
Although the pay wasn't high but we did enjoy our job and continued for another month.
Soon, some of us had to leave to further continue their studies. One by one, the number of temporary teachers decreased. Fortunately, another great comrade, Kevin joined the 'entertainment industry'.
We did many crazy things together. How crazy?
Well, how about twisting Tysern's nipples during Abel's farewell?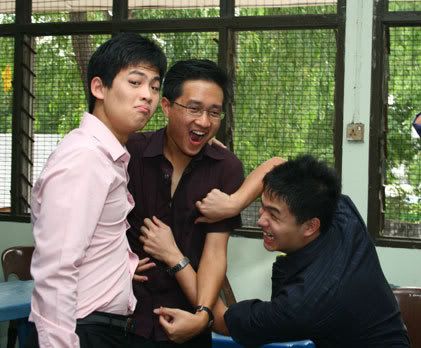 Or
Drinking some weird concoction prepared by the students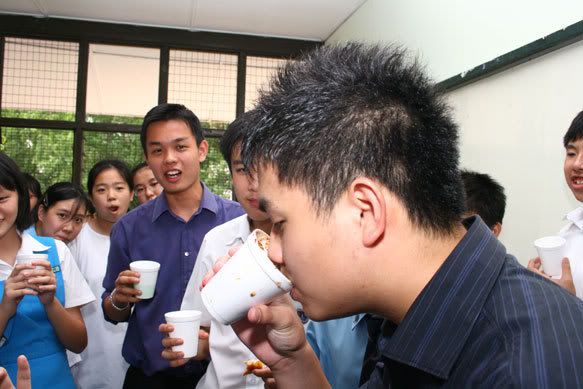 or
Being stripped by the students
Or
Pole-dancing to a song
We even wrote a letter to the PIBG to ask for a pay rise. Sadly, they turned us down and requested for guru sandaran to replace us.
Soon, all of us had to leave.
I was the first to leave among the four (Chuah, Tysern, Kevin and me). We didn't throw a grand farewell party compared to the time when Abel left. Instead, I decided to play a few songs as a token of appreciation to my students.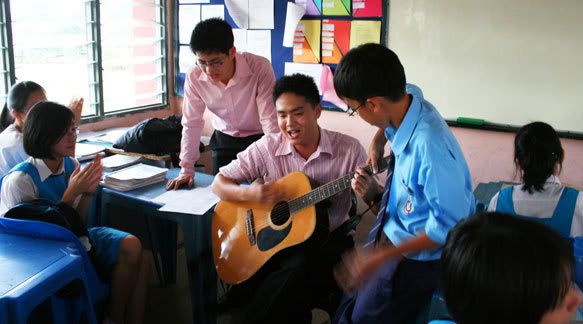 They were a lovely bunch of avid listeners I must say.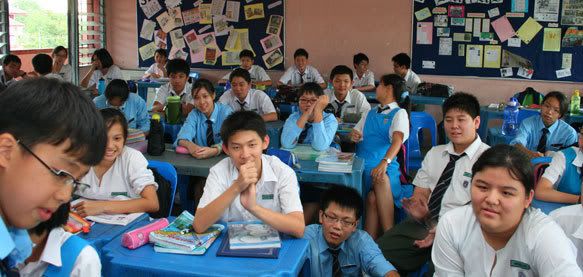 I envy the other temporary teachers in group pictures because most of the time they get nice pictures and being the photographer, I'm always left out. =(
Take a few examples below: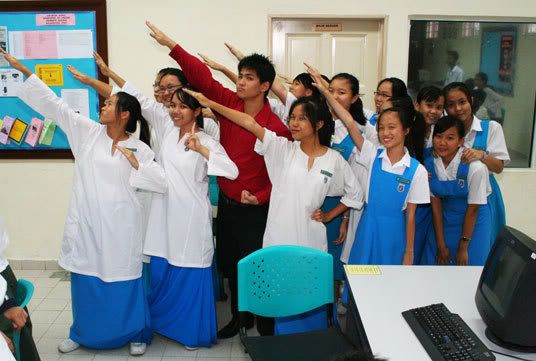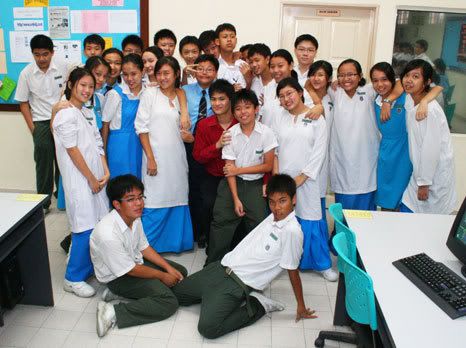 And when I finally gotten the chance to take a group picture, they have to cover my face. =(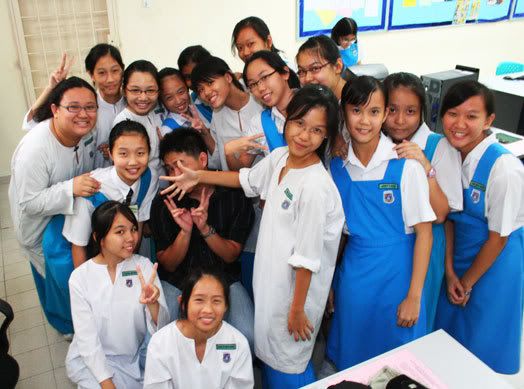 Just joking......
In fact, I had lots of great looking group photos thanks to Tysern, Kevin and Chong Xian.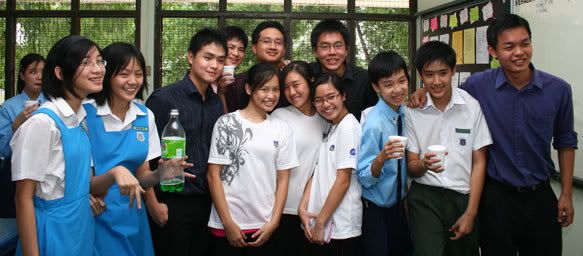 Trying to be Lala
With 1 Keruing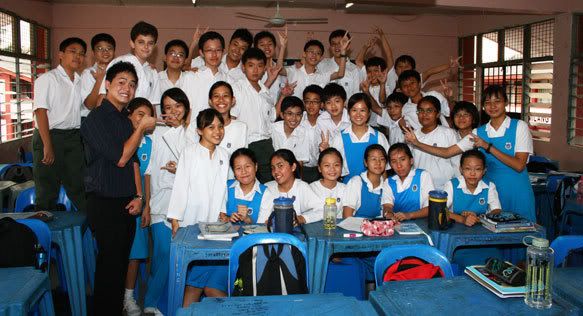 With the 2 Batains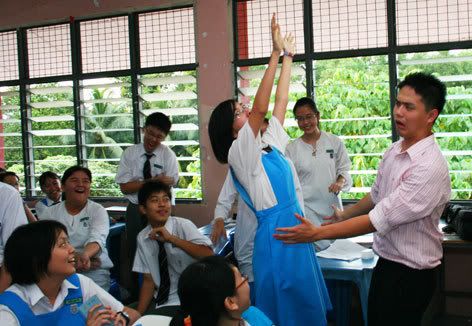 *I DID NOT TOUCH HER AT ALL*
My "charlie angels"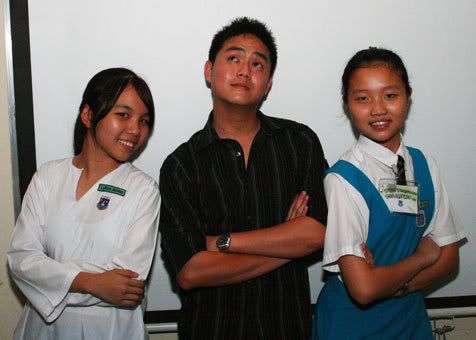 Does farewell mean giving speeches?
Or
Writing last minute farewell cards?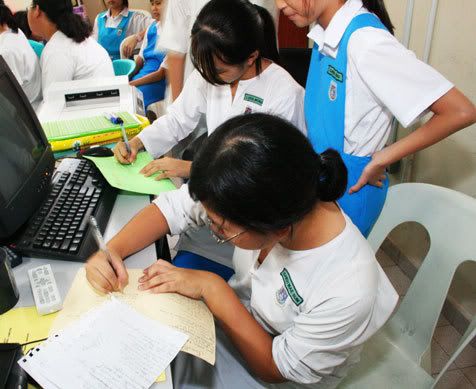 Or
Just staring at the person giving the speech?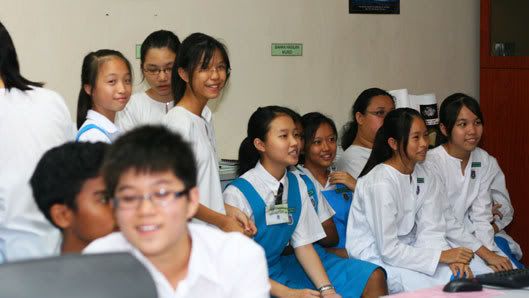 I don't really believe in farewell speeches because I'm
not
never good at giving one. I believe that I will gain more friends as the time goes by. And in fact,
I have expanded my friendship circle to a bigger loop comprising students who I used to teach.
Life goes on no matter what. Although we're leaving the school, but do cherish the happy moments we spent together as students, friends and even teachers because happy thoughts last forever.
On behalf of the "cool" temporary teachers,
I would like to say a big thank you to all the students as well as teachers from SMK Damansara Jaya.
And to the students, YOU made us great and we will never forget YOU.
Regards,
Patrick