I have been very busy lately, hence the lack of update. School has been kind with me and yes, the pay is arriving soon I hope. Not to forget that the students have been treating me well so far.
About changes, they stopped calling me "Mr. Patrick Star" after I had reprimanded them repeatedly. There was once I punished them to stand for half an hour for greeting me with the mentioned nickname.
On the other hand, I had been through an emotional week due to misunderstanding with the queen. So basically I didn't have the mood to do anything but to sit in front of the computer doing nothing all the time.
Sometimes I do wonder...
Alright, scratch that.
Not to forget, one of my students invited me to attend the father's opening ceremony of a new restaurant. To my realization, the dad is the owner of The Original Kayu Nasi Kandar. My jaw dropped instantly when she told me that. But well, I had VIP invitations for my colleagues and yours truly. Food was awesome since we had VIP treatment that night.
Enough of bullshiting, time for pictures.
I am so damn into light photography or something they will term "strobist-ish". I can't wait to get the Poverty Wizard ( a cheaper version of
Pocket Wizards
) to experiment more with light. =)
Basically, my small little project started off with a black-box. Opposite of a light-box which most of the photographers would use to do product photography.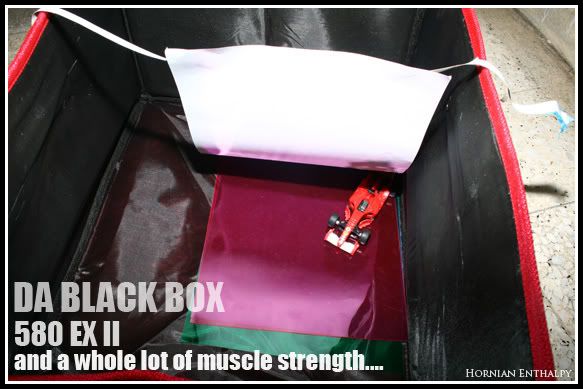 The reason why I added the quote:" and a whole lot of muscle strength..." is that I had to juggle with the white sheet of paper and my camera with the flash mounted on it to get these shots.
The last photo was taken without the black-box but with the aid of a sheet of black paper as the base and a piece of black cardboard as the background.
I hope you guys enjoy the pictures and I will soon update on Pack the Floor 24. =)