Alright people, I know you guys can't wait to see the graduation ball pictures. =P
Anyway, yesterday, 13th December 2007 was SMK Sultan Abdul Samad's Graduation Ball specially organized for the Upper Sixes (Form 6 students).
The theme for the ball was :
Les Memoires De Notres Voyage
which means
The Memories of Our Voyage
.
As usual, we Malaysians like to attend functions and parties 15-30 minutes later than the stated time.
What to do, Malaysians ma!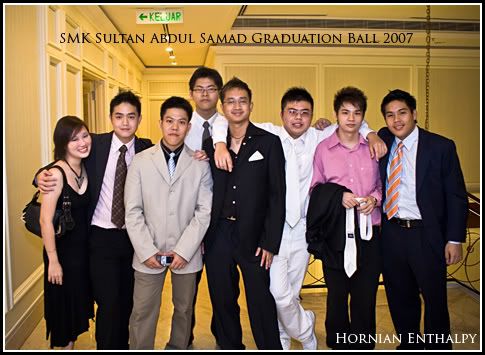 Yesterday was sort of the last chance seeing my Form 6 comrades as they are about to depart in pursuing their dream. It was good to see them again dressed to their fullest. And not to forget, the time where we could actually sit down and have a long talk through the night.
What's with a graduation ball when you do not have a prom date?
Well, I'm lucky to say that my date was gorgeous. =) *layan face*
Food wise? I found the food so so. Maybe it's due to buffet style dinner. Well, as they said, it's the company that counts. =D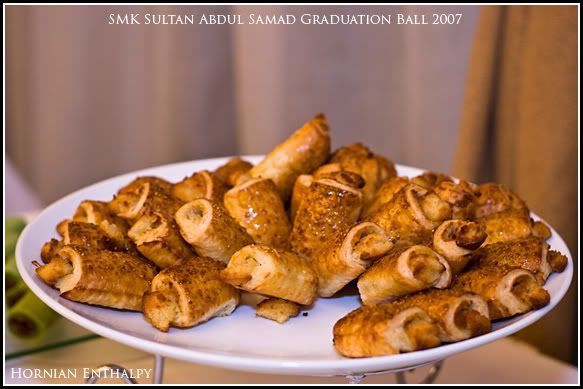 Seremban Siew Pao look-alike
"I'm ready! Where's the food? "says Jason.
I wanna have a bite!!!
And I had a plate of rice mixed with all kind of dishes. Yes, I love to eat rice. That explains the tummy I'm having now.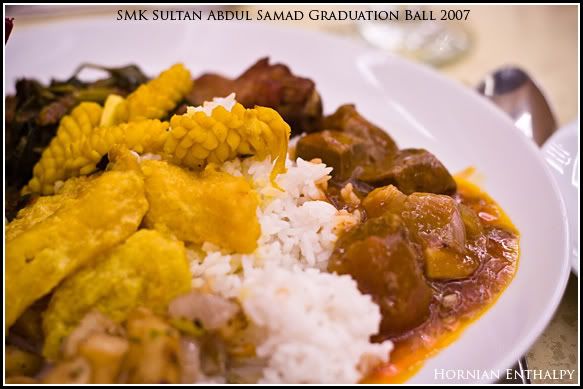 Of Fish in Coconut Gravy, Squid, Beef with Tomato Sauce and Chicken Wings
I personally prefer the chocolate pudding. It was orgasmic as each bite was chocolaty. X)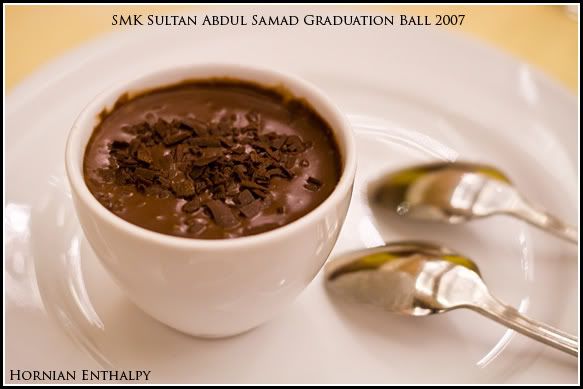 Chocolate Pudding
The whole event ended with a slideshow of the activities we had during our school days as well as greetings and wishes from the subject teachers. For a moment back then I really felt like crying. *Emo*
May our memories be preserved in this very meaningful night.
To all my form 6 mates, I love you guys to the max and I have no regrets spending my time with all of you!
May all of you succeed in your life and we shall meet again when the time allows.