Last Wednesday, my friends and I went to Amcorp mall for lunch after school. The main purpose of going there was to check out some Tamron lenses and also 580 EX II speedlite for my Canon 400D.
We were scouting around the whole mall looking for inexpensive yet delicious food. After surveying the area, we resorted to this Thai restaurant(Rak Thai) for lunch.
The restaurant is a fusion of local cuisines such as the famous Penang Char Kuey Teow and Thai cuisines.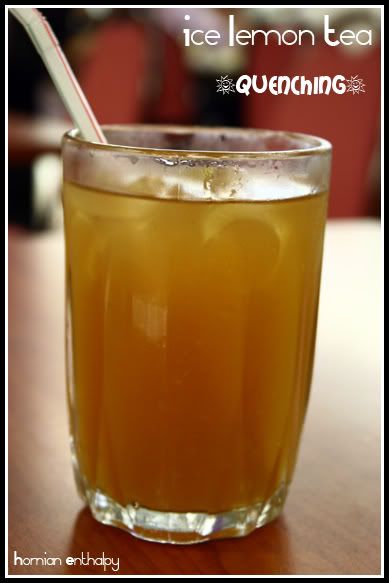 Ice Lemon Tea for a hot sunny day
I ordered Boxing Chicken with Sunny Side Up egg.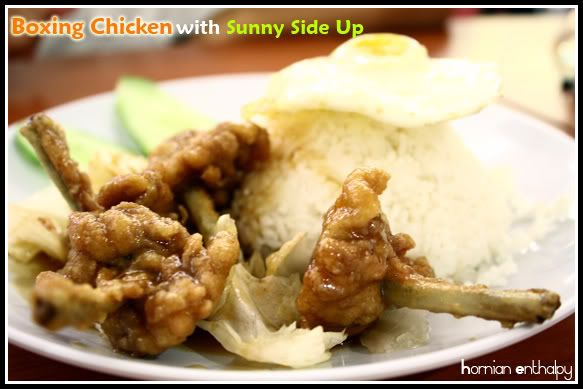 One of my friends ordered this instead.
Sweet...
The price was reasonable as we each had to pay around RM 6.50 for the rice and a cup of cold water.
*Cuts the story short*
Then, I went to J One to survey the price for Tamron zoom lenses. He quoted me quite a reasonable price. But as I mentioned earlier on, I hate one of the staff members.
Here's a conversation between the boss, the staff and myself.
Note: B = boss, S = Staff, M = Me
M: Hi, I would like to know the price for
Tamron 28-70mm f/2.8
?
B: It's slightly expensive compared to the
Tamron 17-50mm f/2.8
. Why don't you get that instead?
S: Ya, the Tamron 17-50mm f/2.8 is a good lens.
M: Yes, I've heard of it too. But I need a zoom lens which I can zoom further like 70mm.
B: Oh..then you should take the 28-70mm.
S: But, do you know that 28 is not really wide?
M: * WTF?! Did I ask for a wide lens in the first place?!* Yes, I know but I need a lens with a longer focal length.
S: *shakes head*
I have edited the conversation but the scenario is written clearly. The bloody staff thought that I am new to DSLR just because I was wearing my school uniform. He was showing me that arrogant kinda face as if he knows everything about cameras. Even if he is good in photography, he didn't get my message clearly and assumed that I asked for a wide lens.
*tut that fella*
On a lighter note, Happy 19th Birthday
Yobi
!!