Three weeks ago, I was invited to a full moon party. Yes, I know my posts are super outdated and I only blog about after a few weeks.
Well, I was and still busy lately, so please bare with me ya? =)
The party was hosted by my
mom's friend's daughter
. Perplexing isn't it? The party was held in Mum's Place at Damansara Perdana. For a moment when I read the invitation card, I thought it is going to be held at her mom's place. XD
Mum's place


To my realization, Mum's Place is a Nyonya Restaurant. The party was sort of a buffet style, just the right medicine to cure my hungry tummy. =)
First off, we have rice, Portuguese Devil Chicken and Potatoes, Tofus, and Beef Rendang.
Portuguese Devil Chicken
tasted like curry chicken but with an extra soury taste.
Beef Rendang
as usual tasted awfully delicious! *two thumbs up*
Tofu
was just an ordinary "Loh Hon Chai" style kinda vegetarian dish.
*Typing this entry makes me hungry, is it me or what? =( *
Next, we have Sarawak Laksa in the roll call.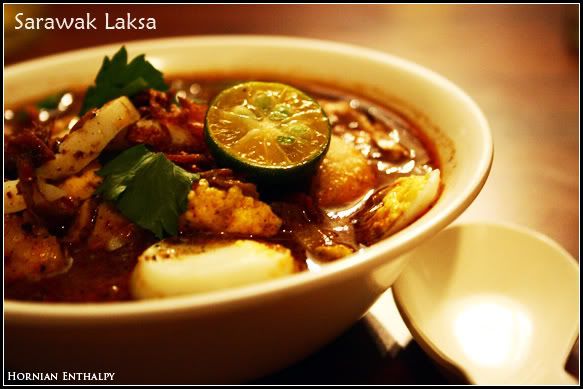 Sarawak Laksa


Somehow, I find the laksa abit too spiced up with spices. Well, maybe I was trying something away from my eating comfort zone.
As time went by, my tummy was slowly filled with food. Later then, I had some lighter snacks. And I shall call it "
The Nasi Kunyit Satay Beef Rendang Combi
".
The Nasi Kunyit Satay Beef Rendang Combi
I am always up for nasi kunyit because I love the soft texture of the rice. Combined with either curry chicken or beef rendang, it can be ORGASMIC!! =P
As for dessert, I had non other than our local
Ais Kacang
.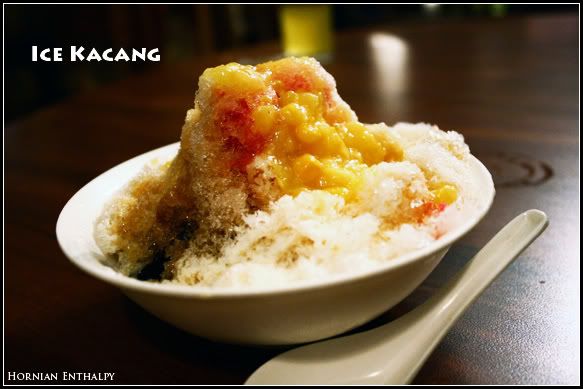 Ice Kacang


I was drawn by it and didn't wipe the table before taking a photo of it. =P
The corn was orgasmic and did I mention the cendol in it was home made?
Dam, I am hungry now......
*P/s: The lighting was too dim hence the yellow cast on the pictures. =(