Last Saturday, I joined my family for lunch at
King Crab
located near my house *Opposite KJ LRT station*.
We had this for lunch:
Dai Chap Hai
First of all, don't get me wrong, "dai chap hai" literally means hairy crabs or something and definitely not "big gang bang" in the cantonese slang. =P
Apparently, you order this kind of crab just to eat its roe or eggs. You wouldn't get a chance to eat the meat because the crab size is too small for juicy crab meat.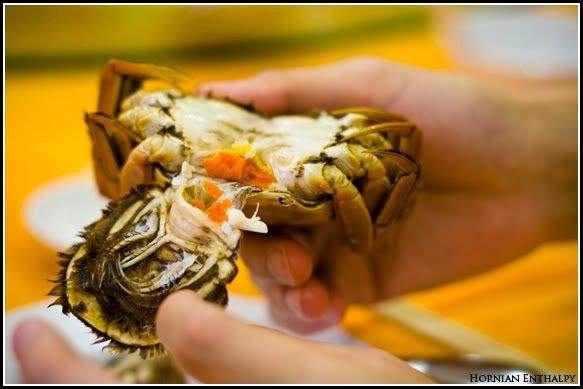 This is how you peel open the crab.
Notice the yellowish thingy? That's the roe or egg. And yes, the crab I ate was bloody hairy. XD
Once you're done peeling the crab, this is what you'll get.
Golden Juicy
These crabs don't come cheap as they cost RM 38++ per crab. Besides that, you'll get a complimentary ginger tea as these crabs are "cold" in Chinese terms.